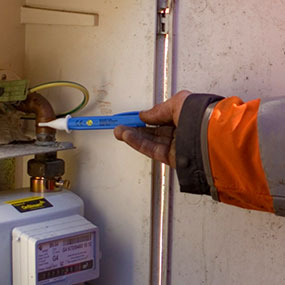 The smart metering programme aims to roll out over 50 million smart gas and electricity meters to around 30 million premises.
The Volt Stick LV50 is the only approved Non Contact Voltage Tester recommended to make sure the smart meter installation process is as safe as possible!
It is common practice to bond mains electricity circuits to the metal plumbing of a property and if an earth fault occurs it can lead to pipes and meters becoming live and presenting a shock hazard to the smart meter installer.
The Volt Stick LV50 is used to quickly and easily check metallic pipes and surfaces in an engineers work area for any dangerous stray voltages. The LV50 is intrinsically-safe and is certified to both European (ATEX) and International (IECEx) standards, so can safely be used anywhere that gas may be present. It will detect voltages of 50 volts AC and above which is widely regarded as the safety threshold for touch potential. (Ref BSI PD 65193).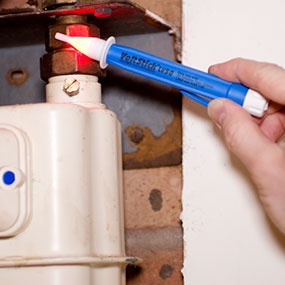 The Volt Stick LV50 is a critical piece of equipment when it comes to ensuring the safety of engineers and is used by many network operators including Cadent Gas, SSE, SGN, Wales & West, NPower and National Grid in the U.S. as part of their Smart Meter roll out!